Chinese Acupuncture Clinic Plymouth
Chinese Acupuncture Clinic
Welcome to the Chinese Acupuncture Clinic in Plymouth
The Chinese Acupuncture Clinic in Plymouth was established in 2003. Over the last 15 years, the clinic has helped thousands of patients and many of them have recommended us to their family and friends.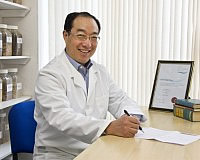 The Chinese Acupuncture Clinic in Plymouth was taken over by Renxiang Ding (BM. MBAcC. MATCM) and his wife Meilan Shen (BSc. MATCM) in January 2013. Both have been practicing Chinese medicine and acupuncture in Plymouth for over 15 years. Ding was the winner of the "Best in the Complementary Medicine" by the Migraine Heroes Healthcare Awards 2009.
Taking an holistic approach, Chinese medicine and acupuncture treat every patient as an individual. The treatments are focused on targeting the underlying cause of the patient's conditions rather than the symptoms. At the clinic, our fully qualified, experienced and registered practitioners offer advice and support on all aspects of health related issues. Acupuncture is widely considered to be beneficial for a range of conditions including back pain, arthritic pain, sciatica, dental pain, hay fever, IBS, menopause, musculoskeletal, nausea, PMS and severe headaches.
We provide the following treatments /therapies in the Plymouth acupuncture clinic:-
Acupuncture
Tuina (Chinese Massage, head and facial only)
Ear Acupuncture/ Ear Seeds
Chinese Herbs
Facial Rejuvenation Acupuncture (FRA)
Baby Massage
For more details please visit our treatment page.
If you think that acupuncture could help you, then it is likely that we could. We will try our best to improve your vitality and energy and maintain the balance of both your body and spirit. A treatment session usually lasts about 45 minutes to 1 hour. Most people feel very relaxed during or after treatment. Apart from needle insertion, the acupuncturist may also use Cupping, Moxibustion, Ear-seeds and electrical acupuncture according to your conditions and needs. For further details about acupuncture please visit our about acupuncture page.
There is nothing more important than your health!